Maybe we are seeing a start to a changing of the guard in tennis - the young guns are beginning to make inroads, so what would the established stars advise them with.
There is such an exciting buzz around international tennis at the moment. The establishment players are well and truly around but the young ones are at last starting to make genuine inroads through the rankings and challenging that "old guard". It highlights the fact that tennis is in a good place.
The world continues to want to see the mega-names in action and that will never fade but the newer names are intermingling with the big names and are being introduced more widely as they prepare to pick up and carry the batons forward. Players such as Grigor Dimitrov, Milos Raonic, Kei Nishikori, Simona Halep and Eugenie Bouchard.
So the big four were asked about what advice they would give these younger ones coming through.
RAFA NADAL
Q. Some of the players who are trying to make it to the finals, win majors for the first time, have talked about how they admire the big four. What do you think the four of you have in common that you would most like these younger players to learn from?
NADAL: At the end the best thing that I think that we did, talking about tennis, is we were able to play with very regular level for a lot of years, no? We were able to be there competing for quarterfinals, semifinals, and finals almost in every important tournament of the year.
That's very difficult. That's didn't happen - we talk about the history of our sport. We never saw that that often how we did that.
I don't know how many times I played against Novak, like 43. Against Roger, lot of ones, too. Roger and Novak played a lot of ones. I played already with Andy lot of times.
So we only can meet each other in semifinals or finals. That shows that we have been in that position a lot of times. That's very difficult mentally and physically.
I think the young players, the example is we were fighters. We were fighters for every single tournament, even if is Grand Slam, Masters 1000, 250, we were there fighting for the whole year, another year, another year, and another year. I think is a good example for the kids, the motivation and passion for the game.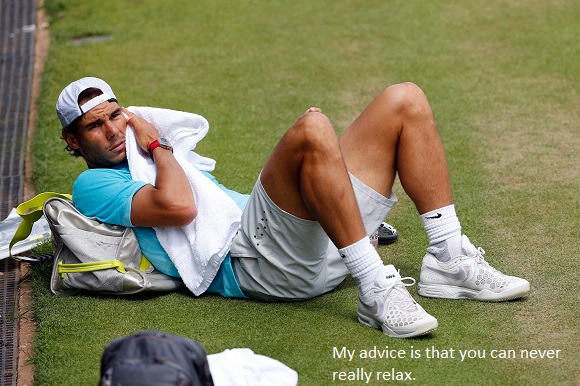 Q. How about off the court in terms of sportsmanship and other qualities?
NADAL: I think the positive thing about this era is we have been playing a lot of times under a lot of pressure, playing for very important things for our careers. We are in the locker room. We still talk each other. We have very good relationship between us. That's important because at the end the tennis at the end is only a game. The relationships, in my opinion, are more important than only a game. Tennis is a game at the end.
ANDY MURRAY
Q. What would you most want the up-and-coming players to learn from the way you and the other three guys in the big four have achieved and how you've gone about it?
MURRAY: Well, I mean, I've been asked about it a lot. I think what many people have enjoyed over the last however many years is seeing the best players playing each other in the biggest matches in the major events, getting to the latter stages of slams, you know.
Often Roger and Rafa played in the finals of slams, Novak obviously, and then over the last couple of years I've managed to get to a few.
I think that's kind of what makes it interesting. If you have the top players, you know, playing well at the biggest events, that makes it interesting. I think people like to see that. I'm sure guys like Dimitrov and Kyrgios and those guys in a few years, we'll be seeing them playing against each other in the latter stages of these events. It's important to have that consistency.

Q. In terms of how you've gone about it, what they might have learned, is there anything you can point to that's a common denominator among the four of you that you would like to see them learn from you?
MURRAY: I mean, the only way to have the consistency is to work hard all the time. That's it. You can't get away from that. If you spend a few months sort of not working hard, the results will show.
It's such a tough sport now. It's physically very demanding, you know, especially in the slams and the big events. Yeah, that would be my only advice to any young player coming through is to work hard and try to get the most out of your game, because if not, you're going to look back with some regrets.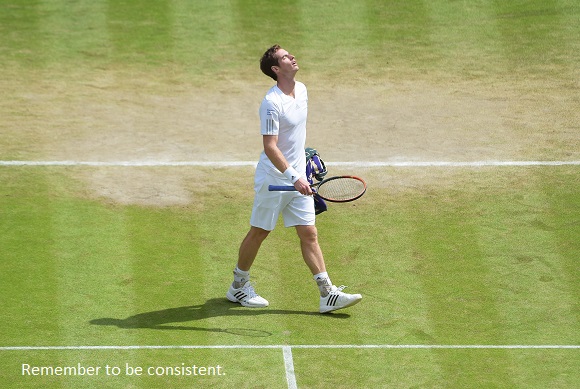 NOVAK DJOKOVIC
Q. A couple of the younger players who have been trying to break into the top four, to make it to finals and win majors the way you and the other three guys in the top four have, have said they've learned a lot from the way you four conduct yourself. What would you most want them to learn from the way you four as a group have conducted yourself on and off the court?
DJOKOVIC: I think you have mentioned something that I think is really important, not just for a top player, a successful tennis player on the court, but also somebody that carries the name of this sport in a proper way and understands the responsibility of being a top player in a very global sport.
Having the right and proper balance between on and off court responsibilities and duties, aside the fact that you are always there to perform your best, to give your maximum of your effort, not just for you and your opponent, but for all the crowd that is coming to see you. So this is something that young players will discover and will learn in the future that every single match, wherever they are, they always have to give their best.
As they climb the rankings ladder, they will also encounter a lot of pressure, expectations from the media, from the people.
It's not any more about them being tennis players, it's about them being complete personalities who represent this sport.
I believe there is this responsibility of respecting your opponents, respecting everybody, respecting the sport, respecting and being grateful for the opportunity to be there. I think, in my eyes, that's essential for anybody who is at the top.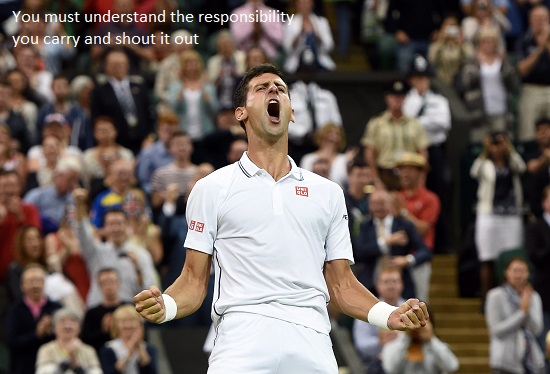 ROGER FEDERER
Q. Some of the younger players who have been trying to attain what you and the other three and the big four have, have spoken about learning a lot from the way you have carried yourselves on court and off. What would you most like that group to learn from the four of you?
FEDERER: Well, I hope they are themselves and not somebody else. Just because somebody told them to act a certain way or write certain things on social media, whatever it is, I just want them to be natural. I think that's most important. Because if that goes away you're boring, immediately, in my opinion.
On the court, you know, play tough and fair. Don't have to be the nicest guy always. I know we get along well. In the locker room it's important to get along, all that stuff, because then the tour is going to be more friendly, it's going to be nicer to hang around.
But on the court you can be tough, you know, and believe in your chances, stretch the rules if you have to. But I think there's some guys around, you know, still I think they need a bit more time, but it's definitely interesting times ahead the next couple years.
Q. What has your group's longevity at the top shown?
FEDERER: Well, that you can play well every week almost, you know. Not so many letdowns. I came through the ranks where it was normal for top guys to have a bad slam, have maybe two bad slams from time to time, some first round losses here and there. It barely ever happens anymore. It's like such a shock when it does happen.
So I think I've been surprised how consistent I've been personally. But even more so by everybody else who is just like normal to get to quarters, get to semis. Because I know how small the margins are, I know how tough it is to do. For everybody to follow suit and do it some even almost better than me, has been the most impressive thing about these group of guys.