Roger Federer maybe a global superstar and an incredible brand but to his family he is a son, brother, father and hiusband
If there is someone in the civilised world that doesn't know about Roger Federer then they has probably spent the last few years on another planet. Federer remains one of the most celebrated people in the history of sport. His moves are followed, his words are listened to, his style is copied and his images are looked at.
But away from the spotlight he remains a son, a brother, a husband and a father. An everyday person not placed on a pedestal and probably the most important job he does in his life is being a father to four children, incredibly two sets of twins. Roger is hands on in the raising of his children and despite his very time consuming professional life, he certainly does not leave it all to his wife Mirka.
"It's not so noisy (having all the children together)", said Federer. "It's very nice having the family with you as much as possible as a dad, as a mum, for that matter. We really enjoy our time together as a big family. I do miss them when they're not with me. We have the means to do it. For that reason we try to manage it as well as we can.
"It's clear we have to listen to the signs of the kids, Mirka, my tennis, all that, but I think by now we have a lot of experience over the years and know how to handle it. But clearly there's a lot happening. Nevertheless we're enjoying it very much, our first Wimbledon all together like that."
There is a growing sector on the tour and that is families. Lleyton Hewitt ravels with his three kids and there are plenty more in that situation. Tournaments are having to provide crèches to accommodate the children that travel.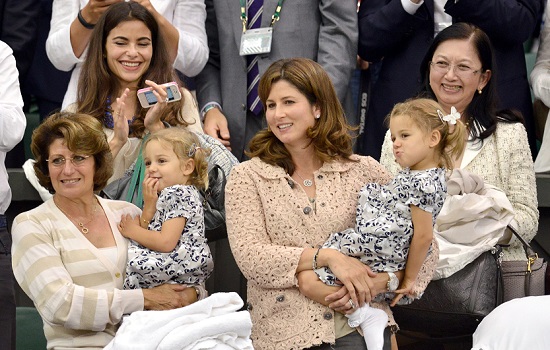 Later in July the first set of Federer twins, the girls Charlene and Myla will turn five. The twin boys Leo and Lenny were born last May.
"Now it's very much educational with the girls. They're getting into that age where you got to give them boundaries but nevertheless play with them, be active with them (and) they sleep better at night," said Roger. "The other ones, it's still very much still Mirka based. I mean, she's totally in charge there. I'm just trying to be helpful as much as I can.
"It's very different, the boys from the girls, right now, just because of the age as well. But what do I like most? I just like spending time with them, teaching them things, doing things with them, having good times. You have to be firm sometimes. That's not the most fun sometimes. But what are you going to do?"
So is he the strict one or is it Mirka who sets the ground rules?
"Depends. I'm strict enough. I do say things. It's not like I never say anything. So they know that," he said.
Word is Mirka is the softie with the kids.
The twin girls are becoming more aware of who their father is and what he does but they have not totally grasped it all which is not surprising. They do know he plays tennis but he thinks they don't realise that it is his job.
"They understand the difference between a match and a practice now because they've been to both. They know I kind of play for like a trophy and all that stuff. Somewhat. They're getting there," he said.
"I don't need them to remain grounded, to be quite honest. That's not why I had kids. I don't need them to like get me to think about something else other than tennis. I've always been very open minded, but yeah, but of course I can't wait to go see the kids, to do other things, than speak tennis all day long. It's a bit boring eventually."