Where will Rafa Nadal be judged when the time comes to determine his position in the history of tennis? Will he be regarded as one of the greatest or will he be the greatest ever? The majority view over the last few years and even now is the greatest of all time is Roger Federer. However, the gap is closing and probably closing fast.
Nadal won his 14th career major when he won his ninth French Open and in the process became the first man ever to win five consecutive French crowns. It is an achievement that is almost from another world. His 14th career Slam puts him in equal second place, all-time, with Pete Sampras and leaves him just three short of equally Roger Federer's record. Plus Nadal has a Davis Cup by BNP Paribas and an Olympic singles gold medal.
But for Rafa the records are not what he thinks about as he explained after his 3-6, 7-5, 6-2, 6-4 victory in three hours 31 minutes over Novak Djokovic, yet again denying the world No.2 from winning the one major he needs to complete his own career Grand Slam.
"Always for me is the same, the most important thing is win Roland Garros," said Nadal. "Then the other things, sure, are important, but the other things I always repeat the same; we will see when we finish my career how many Grand Slams I have or if I win four, three, or five in a row. Today that is not the most important thing. The most important thing today is I won the most important tournament of the world in clay, probably the most important tournament of the year for me.
"I did a lot of times. I think was an emotional victory after what happened in Australia. I think I arrived with a lot of motivation to Australia this year. I prepared myself well to be there healthy and to be there with the right level.
"Since one month I felt that I was able to playing better or worse, but my mentality was there again, no? And my motivation, my positive feelings on court was there again. It is a process that you need to work, need to win matches to play better and better. That's something that happened. I was winning more and more the last couple of weeks, and I arrived here playing well. That's why I won against the toughest opponent possible."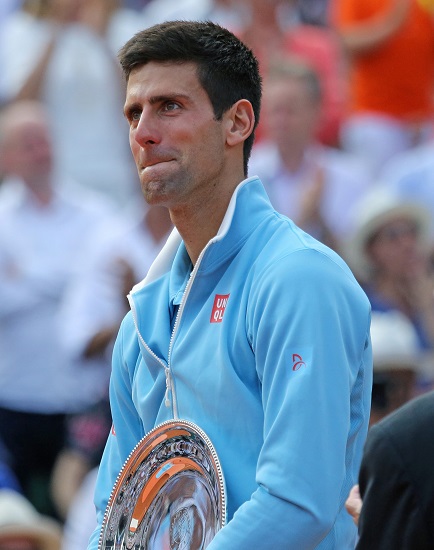 This was a brutal final. The weather conditions the last two days of the event changed things completely. After cool conditions most of the event, the mercury was soaring and both players were hurting in the heat. Djokovic went on the attack early and broke Nadal in the eighth game of the first set and then served it out. Nadal lost his serve when an inside out forehand went wide and then lost the set by sending a forehand long.
The second set saw an exchange of breaks before Nadal broke for the set with a stunning forehand and in doing so went nuts with excitement. Djokovic was starting to look distressed. His energy level was dropping and Nadal rolled through the third. In the fourth Nadal went up 4-2 when Djokovic sent a backhand wide but the Serb struck back a game later.
With Nadal at 5-4, Djokovic was serving to stay in the final. He had been suffering with his physical state but later said he was feeling better in the fourth. Still he was facing championship point. First serve was a fault but then the horror of all horrors happened, Djokovic double faulted to lose the final, just as he did in 2012 when they met in the final. Nadal dropped to the court then raised his armed in victory, his face beaming as brightly as the afternoon sun.
"It's finals of Grand Slam; I have expectations," said Djokovic. "You want this win as much as your opponent across the net. That's it. I'm emotional player, and the tennis court is an arena and I'm there to fight and I'm there to try to win, and, you know, show my emotions.
"Unfortunately, it didn't work this time. You know, that's sport. It's how it is. These kind of big matches obviously take the best out of players. And of course it's a huge challenge. I tried to do my best. But, you know, it's how it is. Congratulations to him. He was a better player in the crucial moments. Of course it's disappointing for me, but life goes on. It's not the first time or last time that I lost a match."
Nadal's record at Roland Garros is staggering. His win-loss ratio is 66-1 and overall he is 90-1 in best of five set matches on clay.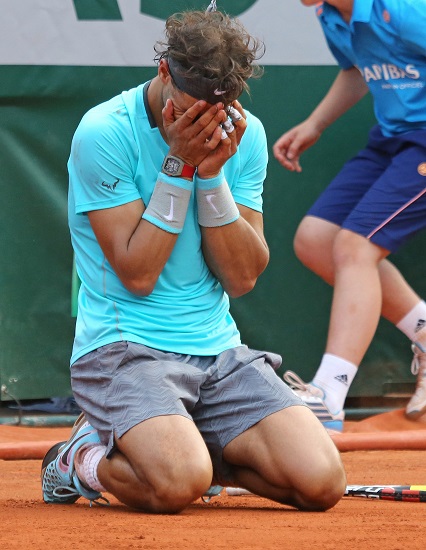 "Of course I'm quite serene and calm, at peace," said Nadal. "Some holidays will probably be better, that's for sure. The fact that I won my ninth Roland Garros is a very good thing. Mentally it really shows that I can play in a very consistent way for many months. You know, it's not just a one week preparation. You have to work hard and practice for days and weeks and months. To me, winning is the result, the equivalent of lots of effort; therefore, I feel more serene and personally I'm very satisfied.
So where do you put him on the all-time levels? The next few years will determine that.