Maria Sharapova will be playing her third consecutive final at the French Open, the last woman to achieve that was Justine Henin in 2005, 06, 07 and she won all three years. Sharapova held the Coupe Lenglen aloft in 2012, which gave her a career Grand Slam, and was a finalist to Serena Williams twelve months ago.
Simona Halep meanwhile will be playing her very first final at one of the four majors. The 22 year old is the first Romanian woman for 34 years to reach the French final. In 1980 it was Virginia Ruzici who made it and lost to Chris Evert. Coincidentally Ruzici is now Halep's agent and manager.
Sharapova has made her way back after injuries and surgeries, in particular to her right shoulder. She does not possess the same serve as she used to have but she has worked hard to make up for the short comings.
"I think after not playing for five or six months, when you start winning a couple of titles and you get to the finals of a Grand Slam, it's easy to forget that you were away from the game and that you're battling an injury," said Sharapova. "It's nice to sort of think back at that time and think where you came from and you got yourself back in this position.
"I'm very proud, because I worked hard to get myself injury free, and I had to work through some tough losses in the beginning of the season that I didn't want to accept. I worked through them, I worked hard, and I'm in this position giving myself a chance. As a tennis player, that's what I'm personally proud of more than anything."
The final will be the fourth meeting between the two players and Sharapova has claimed all of them. Even if Halep gets off to a quick starts as she did in the Madrid final, she cannot relax. Sharapova has made it abundantly clear that she is not going to give up.
"I don't know how I have to play to beat Maria; but if I can beat Maria, better to say," said Halep. "But I have to take that revenge. I will fight for this one. I played a really good match in Madrid first set. I started really well. I was very fast on court, and I opened the angles very well.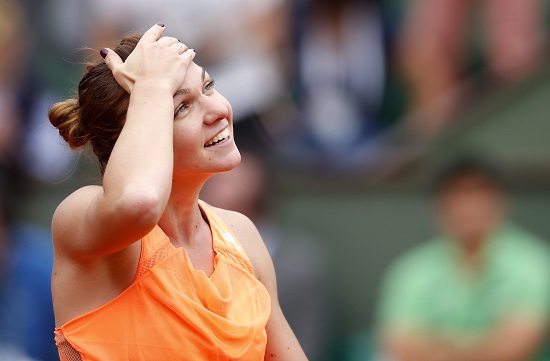 "But she came back very, very well and she hit strong, stronger than me at that moment. Now, I have to be aggressive again, to play fast, like my style, and to stay there with the nerves. It will be a tough moment for me. I know. I'm sure that will be. But I have to be happy and just to enjoy. I cannot say how I will feel Saturday. I cannot now.
"I don't know how is it to play a final of a Grand Slams."
Irrespective of what happens in the final Halep will be the new world No.3 at the conclusion of the tournament. She says that is very nice but it is not the reason she is playing for. To her the ranking is secondary.
"More important is to play, to win many more matches, and to play finals and to win titles," she said. "But of course it's amazing to be top world 3. Yeah, it's very fast. I didn't expect this last year, but if I'm here, I have to enjoy the moment and to take more confidence in myself. I'm there, and I can do everything on court."
Halep cannot say that it is a surprise to herself that she is in the final, after all she has beaten a lot of very good players but it will take a lot of her mental strength to manage the emotions she will feel in the final. Getting too nervous will not be a help
I cannot say that is a surprise to play final because I beat good players. In the past I beat them also, so it wasn't a surprise for me. But of course it's amazing to play final.

"I have nothing to lose (and) I will keep this in my mind always," said Halep. "I will try to hit very relaxed. Of course I know that it will be very tough to manage the emotions, but I will try my best at that moment."
The experience of Sharapova could be the deciding factor in the final. In back-to-back matches she'd have played two young players who are potentially among the future of women's tennis, Eugenie Bouchard and now Halep. She is not out there to quash them because they are young and put them in their places, she is out there to win the title, how she does that (within the rules) is all that matters.
"No matter who is across the net, I feel's a great opportunity for the both of us. I'll be there until the very last point. I just want to take care of my business," she said.
"Do I want to give them the chance to go further in the tournament? Absolutely not. But not because I want to prove something or show them that they're not the next generation. They're playing great tennis.
"But because I want to be the winner of that particular match. I want to go further. No matter if I'm a veteran or I don't care what generation I'm in. I work too much to just let the match go because they're part of a newer generation."
The side question is if Halep wins will it be seen as an upset because this is all so new to her, or if Sharapova wins will it be considered an upset because Halep is ranked higher than her?