There was an upset on Court Suzanne Lenglen in the men's quarterfinals when Rafa Nadal played David Ferrer. No Nadal did not lose the match but he did lose a set. That only served to provide the Nadal naysayers with ammunition that he has taken a dip with this French open. That he has further opened the door for others.
He will now come up against Andy Murray in the semis and as well as Murray is playing on clay, and he is playing exceptionally well on the surface, maybe the best of his career, he is still going to have to play better than his best against Nadal.
Most definitely he has a chance to topple Nadal. He came close to doing it last month in Rome; Nadal scraped through 7-5 in the final set, but here in Paris, at Roland Garros, Nadal is at home. Just like Boris Becker used to say about the Wimbledon Centre Court being his lounge room as it was for Pete Sampras and is for Roger Federer, Court Philippe Chatrier is the same for Nadal.
The fact that he has won just one title coming into Roland Garros, the fewest clay court titles he's won before this event in a decade and just because he has dropped a set, does not mean he is vulnerable. He may still lose, but it won't be because of those sorts of reasons.
He showed what happens if he gets behind on clay at Roland Garros. Ferrer was given another lesson, just as he was in last year's final.
"I think at the beginning David was playing with a higher intensity than me. Is true that I started first two points playing well, but then I make a lot of mistakes with my backhand. Amazing with how much mistakes I had with my backhand," said Nadal. "Difficult to understand, because last two days I was practicing the best that I practiced since a long time ago in terms of feeling with my forehand, with my backhand.
"I went on court relaxed. Not relaxed thinking that I'm going to win, but relaxed thinking I'm going to play well. I really felt the ball better than probably during the whole year. So I don't know. Windy day, too. I get a little bit block mentally with my backhand, and was a little bit difficult for me to change the dynamic of the match.

"So it was tough the first set mentally. I decide to go more inside to return in the second set, and I decided to play much more times with my forehand. I did, I think: When I did, I think the dynamic of the match changed. Even if the match was close in the second, even if he had some break points to break back to me, the dynamic was better for me I thought in that moment of the match.
"I was able to make that change. That's important and very positive. And then after the second set, I don't know, I think David play with more mistakes than usual, and I continue playing with my forehand. Is true after that second set I relaxed and I was hitting the backhand probably not perfect, not as I would like to do, because as I told you before my feeling before the match was unbelievable with the shots but I was playing with no mistakes. So that was very important."
Murray rightly believes he has not exceeded his expectations by making the semis. It has made this round before in Paris, in 2011.He can play on any surface and Nadal believed before the event that the British player was a contender for the title. The Spaniard is definitely not surprised that Murray has gone so far.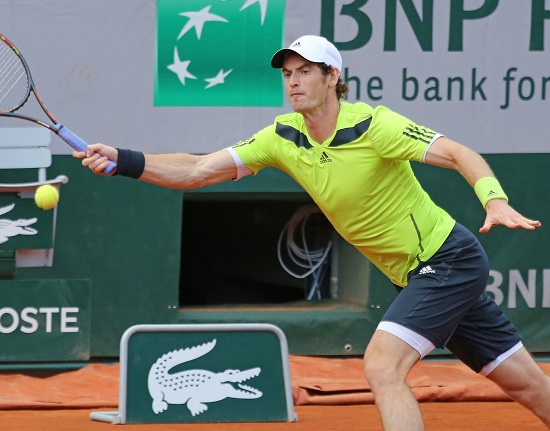 "Yeah, it's definitely a big achievement, but that's not what I came here to do; my goals are different and my expectations are different to a lot of people," said Murray. "I expect a lot of myself. I put a lot of pressure on myself to perform well at these events, and thankfully I have done okay so far. Still hopefully a long way to go in the tournament."
Murray said he "definitely learned some things" from the match they played in Rome at the Foro Italico. He said he was clear with what was working and what was not but still he will need to adjust things accordingly as the match pans out bearing in mind the conditions are different, it's a different court with different balls and a different atmosphere.
"Conditions change, which makes a match slightly different, as well, but there are some things I learned in that match that hopefully I can use to my advantage (this time)," said Murray.
Nadal leads their head-to-head 14-5 and has won all five matches hey have played on clay including that semifinal in 2011.
"Always to play against Andy is a big challenge. Always is a pleasure at the same time. I really like him as a person. I think he's a great guy. Always stay the same. He's a great competitor," said Nadal.