When Ernests Gulbis was asked what has taken him so long to get to this stage of his tennis career, the Latvian burst into laughter. When Gulbis starts laughing it is a hearty laugh, it is a laugh that tells you he is having a good time.
The 25 year old has always been one of the characters in tennis and those of us close to the game have often marveled at his talent but at the same time shaken our heads that he has spent more time speaking his mind and being known for that, rather than letting his racquet do the talking.
"What took me so long? I think I was eating wrong. I had the wrong diet. Everybody was talking about this gluten free diet. My diet is full on gluten. I like a lot of ketchup, a lot of unhealthy stuff so there is a balance which I found in the last couple of years," he said with that laugh of his.
He will come up against Novak Djokovic in the semifinals of Roland Garros and that is the best he has achieved in his career at one of the four majors. His previous best was the quarters, once, in 2008, also at the French Open.
From Djokovic he expects "really stable, stable tennis. No mistakes, no easy points". As for himself, he says he has to be at 100% of his game, from the first point to the last point and not have any excuses.
The two of them have known each other since their early teen years having attended the same tennis academy in Germany. Gulbis remembers Djokovic to be someone very precise and regimented and even at that age, professional. Gulbis, who comes from a very wealthy family was more up for having fun and taking the easy way out.
He was asked if he is making up for the lost years to which he replied that he is making up for the money he didn't get to earn because of his partying ways. "I need to earn money to break even," he said. "Yes my father is rich, but I need money, to turn it on my own."
Gulbis could be described as the family member who is the "cool dude". The favourite of the younger kids, the one they all want to hang with but there is no ego with him.
"For me, I found throughout these years what is important for me to be truly happy. For me to be truly happy comes only from doing well my job," said Gulbis. "Then I can really live my life to the maximum. I can enjoy the stuff much more. So for me it's really important for my happiness just to be successful on the tennis court. Forget about the money. Forget about fame. It's just about my inner comfort. That's it. For me, that's all that matters in the end of the day."
Djokovic remembers that they didn't share a room at the academy but they were next door to each other so there was a fair amount of time spent with one another. Djokovic says Gulbis was always somebody that was very enthusiastic about everything in life. He wanted to enjoy life with "open arms, if I can say that politically correct". Read between the lines.
Novak added: "He was very talented. He was always very talented. I remember he came out in the practices swinging fully through the ball. Didn't really care too much. He respected his coach. He respected, you know, the players that he liked, others, he just crushed on the court on the practice and the tournaments as well.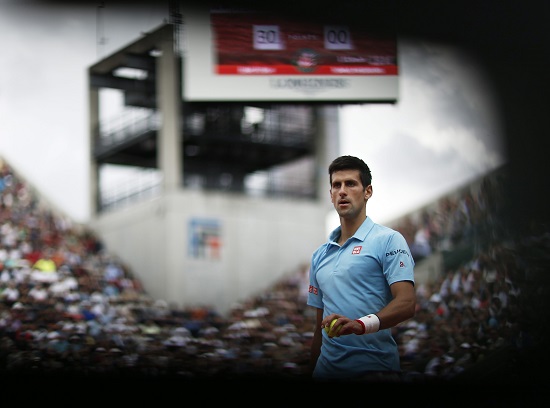 "He always had this confidence about him that you could say that even though he was 14, 15 at the time that he's going to become something big. He had a game and he also had no fear. (But) there were times when he liked to work. There were times when he didn't like to work. With me, it wasn't such a hassle for working, but generally we always got along really well on and off the court."
Djokovic leads their series 4-1 but he has not played this version of Gulbis and as Gulbis says, we are at "zero, zero". What we are now seeing Ernests Gulbis mark II, someone who has matured but at the same time kept that charisma.
When he wasn't producing the goods on tour, his mother told him to stop playing and do something else with his life. True to form he didn't take any notice. Now he has made this breakthrough, she is again telling him to quit … this time to do so while he is ahead.
Fortunately for all who follow tennis Ernests Gulbis is still not listening to his mother.