When we speak of rivalries in men's tennis the standout for most people is the one between Rafa Nadal and Roger Federer and no doubt it must be seen as a big deal of our times, but the rivalry between Nadal and Federer almost pales compared to the one between Nadal and Novak Djokovic for the number of matches played.
Interestingly Nadal and Federer have played 33 times which is the same as Djokovic and Federer but there are six other rivalries ahead of them in men's tennis and then there is the grand mama of all rivalries in tennis … Martina Navratilova and Chris Evert who played a staggering 80 times with Navratilova finishing ahead at 43-37.
When Djokovic and Nadal battled it out for the Sony Open Tennis in Miami last weekend, it was their 40th meeting and Novak has cut the difference down to 22-18 to Rafa. Behind them in men's tennis is Ivan Lendl v John McEnroe 36, Lendl v Jimmy Connors 35 and its 35 also for Boris Becker v Stefan Edberg while McEnroe v Connors and Andre Agassi v Pete Sampras are at 34.
So why hasn't the Nadal-Djokovic rivalry captured the imagination as much as Nadal-Federer? Well, quite possibly Rafa and Novak started playing before Novak really hit the big time so there were all those matches not much attention was paid to, whereas Nadal and Federer were far more in the picture and focus of attention when they started.
Nadal and Federer also played in so many high profile finals at the majors so everyone sat up and took note. Remember the Wimbledon finals and the French Open finals when Federer was so desperate to win at Roland Garros?
Nadal and Federer were always there as 1 v 2 and that has stuck in the minds of tennis observers. Both of them also made it clear that the other was their biggest threat and they lifted to the greatest heights when they played on another. Plus never before in the history of tennis had the No.1 player in the world been dominated so much by the No.2 player in the world.
Djokovic was still making a name for himself when Nadal and Federer were carving a swath through the tour but that is all so different now.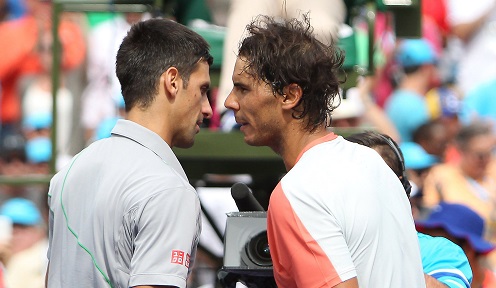 "I think challenges, big challenges that I had in my career changed me in a positive way as a player," said Djokovic. "Because of Rafa and because of Roger I am what I am today, in a way, because when I reached the No. 3 in the world and won the first Grand Slam title in 2008, the years after that I struggled a lot mentally to overcome the doubts that I had.
"And all the big matches I lost to these guys was consistent but not winning the big matches, and then they made me understand what I need to do on the court. I worked hard, and, you know, it's paying dividends, I guess, in the last couple of years.
"Obviously it's not easy when you're playing a top rival at the finals of any tournament, but if you want to be the best, you have to beat the best. You have to win against the best players in the world. That's the biggest challenge you can have."
Nadal and Djokovic have played each other at least once every year from 2006. In 2007 and 2009 they played each other seven times during each of those years; the most they have faced each other in a single season. In 2008, 2011 and 2013 the tally was six each time. The Miami final was their first of 2014.
Rafa has often said he loves a challenge so he was asked about the challenge of Novak and if he was glad that Novak exists. The response was the quote of the Sony Open Tennis.
Nadal said: "No. I like challenges, but I am not stupid." The laughter was uproarious.
Tennis is on the threshold of another great rivalry and it is going to be fascinating to see it all unfold.