Pete Sampras and Andre Agassi had one of the great rivalries, not just in tennis, but in all of sport. The last time they met in an official event was the 2002 US Open final and Sampras won his 14th career major which set a new record at the time but one that has since been broken by Roger Federer whose record of 17 is likely also to be broken by Rafael Nadal.
Sampras and Agassi played 34 times. The end record was 20-14 to Sampras and their rivalry ranks equal fourth for the most times two players have met in the Open era. Nine times they met at the four majors and Sampras led 6-3 and that places them equal third for most meetings at the majors in the Open era.
Pete and Andre has squared off a number of times in special events since then including the BNP Paribas Showdown at Madison Square Garden. Their encounters are still "events", they are "sit-up-and-take-notice" matches. It is like watching Federer v Nadal and it's what the Americans like to call "popcorn matches".
Not always have their matches ended with smiles and an embrace. A few years ago at the BNP Paribas Open in Indian Wells there were a couple of red faces but these two giants of the game are professional enough to get over such things.
"We're good. We battled many years. We're certainly very different in every way," said Pete. "You know, I respect Andre. He was my toughest opponent. We're going to compete in London, have some fun and compete for the people there.
"Our relationship's fine. It's not like there's any bad blood. We've had a few awkward moments here and there, but it is what it is."
As Sampras said, the two of them will square off on 3rd March at Earl's Court in London at the World Tennis Day Showdown presented by the Financial Times.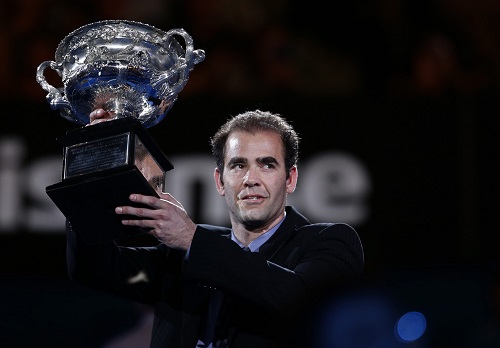 Both lead very different lives. Andre with his school in Las Vegas and everything that surrounds that while Pete plays a few tennis events here and there, swings golf clubs and lives in Beverley Hills, Los Angeles. He has a stunning home there with three driveways. I know because I have seen it. The driveway aspect was really, and very amusingly, highlighted by a tour guide, you know those ones that take you around the homes of the stars?
Both guys have obviously worked very hard for what they have achieved and nothing should be denied from them as they enjoy the spoils of their successes.
"Nothing is given to you, you have to go out there and earn it," said Sampras. "In life, in a lot of ways, you see a lot of people get breaks when they don't deserve them. I just feel that with sports, nothing is given to you, you have to go out there and earn it. There are a lot of good life lessons that you can learn from sports and it's something I am trying to instil in my kids.
"I love sports. I love watching anything from the NFL to golf to college football. I think sports is the real deal. There are great stories. There are emotional stories (he would know all about that). It's very real. I love tennis because it is the ultimate one-on-one sport. It's one will against another will. You put it all out there. If you don't play well, you are going to lose. That's the way I kind of like it."
While Pete is not interested in travelling the tour non-stop again, not even as a high profile coach like Ivan Lendl or Stefan Edberg, he still loves to play. He loves hitting the ball and getting a good workout and he gets to "catch up with some friends, some old stories".
He added: "For whatever reason people want to see us play, so I'm excited."
That's what fans will be seeing on World Tennis Day in London and then also at the BNP Paribas Showdowns in Hong Kong with Li Na facing Sam Stosur and Lleyton Hewitt playing Tomas Berdych and in New York where Andy Murray meets Novak Djokovic and the McEnroe Brothers tackle the Bryan Brothers.