When Stan Wawrinka took us all by surprise and it was a fantastic surprise, and won his first major, the Australian Open with that amazing four set win over Rafael Nadal, he became only the second player since 2009 other than Djokovic, Nadal, Federer or Murray to win one of the big four titles.
The exception was Juan Martin Del Potro at the 2009 US Open. In fact the last player other than Federer, Djokovic or Nadal to win the Australian Open was Marat Safin in 2005.
So what price fame?
Apparently since winning the year's first major, Wawrinka has attracted a fair amount of attention because he also climbed to a career high ranking of three and for the first time is ahead of his fellow Swiss Roger Federer in the rankings.
Federer has dropped to eight and he needs to be careful because any further drop would mean that he will be coming up against the likes of the big guns before the business end of a tournament begins, that is the quarterfinals.
But back to "Stan the Man"; he is most certainly the man of the moment in world tennis so that is a fitting name for him. His humble, measured and courageous mannerisms on the Rod Laver Arena court has everyone talking about him.
What highlighted the humility was watching him realise that he had actually won the Australian Open. When Nadal's ball was out on match point, it seemed that Wawrinka didn't quite grasp what had happened for a second and then he raised his arms in victory as a beaming smile spread across his face.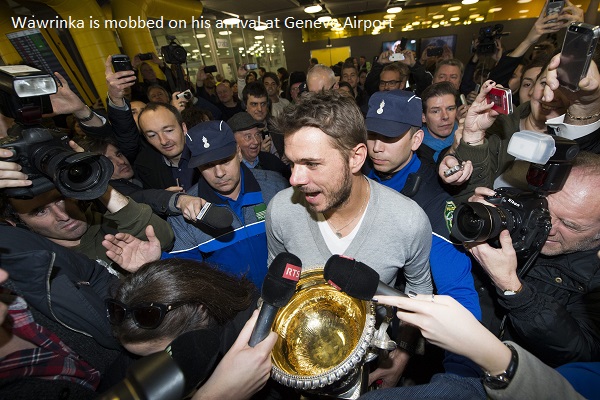 His agent Lawrence Frankopan says the win has "transformed him from being just an extremely good tennis player into a highly marketable property for numerous global companies".
What has subsequently resulted is that "a number of concerns are currently stating they have agreements in place to act on his behalf" indicated Frankopan.
Such developments, for the first time that I can certainly remember, has prompted an agent to make a public statement suggesting that is not true at all and that any agreements or endorsements or commercial arrangements or any business with Wawrinka, goes through him.
"As anyone in tennis will know, Stan is a very charming approachable and charismatic man who I think appeals to many brands and, with his unique "Swissness", will be a very interesting commodity to be associated with," said Frankopan. "He is open to any ideas but these should be conducted through the proper channels."
You'd have to say the sky is the limit. Not sure if he would rival Roger just yet.