There is a fascinating new view to keep an eye on in tennis and 2014 will be the first year that it really becomes evident.
Normally coaches have been part of a team, an important part, but generally they, like the rest of a player's entourage, have sort of stayed a little bit in the background.
That is about to change as more prominent players have taken on the services of legends of the sport.
In the past the odd player has used a former star as a consultant but Andy Murray seemed to have started a bit of a trend by engaging the services of Ivan Lendl. The association has taken Murray to the US Open, his first Grand Slam crown, and Wimbledon which broke a drought for British men that dated back to 1936.
Lendl, 53, has a warped sense of humour and that meshes well with Murray who can be just as crafty and wicked with his practical jokes.
We have a new angle to be focused on as players who were great rivals on the court in their day are now like rivals on the coaching front and the eyes of fans and media will probably swing more to the courtside "player box" at the world's centre courts.
Novak Djokovic's announcement of Boris Becker as his new "head coach" was greeted with surprise. It was an association that first came about during the Beijing event last October when Djokovic called the German. Even 46 year old Becker expressed great surprise at the approach.
Lleyton Hewitt has had Tony Roche by his side for a few years now but because Hewitt's star is not as bright as it used to be, not as much attention was placed on the association outside Australia.
Roger Federer had been working with Stefan Edberg in Dubai and the association has been made a bit more permanent with the news that Edberg will travel with Federer for ten weeks this year. The 47 year old Swede is among the nicest and easiest of people to deal with and the personalities of Roger and Stefan should blend very well.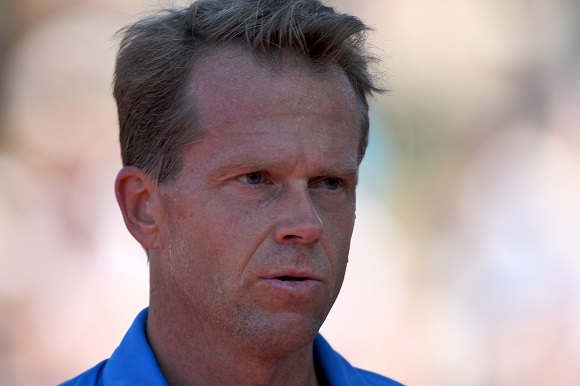 Richard Gasquet has also joined in with a Grand Slam association – he will be working with French Open winner, 42 year old Sergi Bruguera while Marin Cilic has engaged his good mate Goran Ivanisevic. The most recent announcement is that of the Asian connection between Michael Chang, 41, and Kei Nishikori. That too is interesting because Chang has never coached a player before.
Coming in as a rookie coach should not be a hindrance. Certainly Lendl was in that situation and there were plenty of questions as to how he would handle things. Answer is that that he has done a terrific job.
The wealth of knowledge these sort of people has is invaluable. The stories they are in a position to impart on their "pupils" can only be of benefit to the sport because in theory the history of tennis will continue to be carried down and imbedded into the players.
The entry of these great names most definitely adds another dimension to the sport. How they react as they "play" one of their past rivals will be fascinating. The fans should have a great time with this aspect.
Continuing the trend of Grand Slam singles champions giving back to the sport … you also have Jim Courier as captain of the USA Davis Cup team, Pat Rafter is captain of the Australian Davis Cup team and Carlos Moya is the new captain of the Spanish Davis Cup team, having taken over from Alex Corretja.
Interestingly, the trend of tennis greats coaching players has not quite had the impact on the women's tour. There were three rather short-lived associations – Amelie Mauresmo with Vika Azarenka, Thomas Johansson with Caroline Wozniacki and Jimmy Connors with Maria Sharapova, one that not too many quite understood.
Between Lendl, Edberg, Becker, Chang, Bruguera, Ivanisevic and Roche, they have won 25 majors and here is a look at the head-to-head between the first six – Roche was a bit before their time as a player.
Lendl v Edberg: 13-14
Lendl v Becker: 11-10
Lendl v Chang: 5-2
Lendl v Bruguera: 1-1
Lendl v Ivanisevic: 5-1
Edberg v Becker: 10-25
Edberg v Chang: 12-9
Edberg v Bruguera: 6-3
Edberg v Ivanisevic: 9-10
Becker v Chang: 5-1
Becker v Bruguera: 2-2
Becker v Ivanisevic: 10-9
Chang v Bruguera: 5-3
Chang v Ivanisevic: 6-5
Ivanisevic v Bruguera: 5-4