The year has come to an end and 2013 was truly a remarkable season on a number of fronts in world tennis. There was Andy Murray winning Wimbledon and breaking a drought that stretched to 1936 for a British man – that was probably the highlight of 2013.
There was Serena Williams dominating women's tennis in a remarkable manner and ended 2013 not only as year-end world No.1 but also ITF World Champion – there was Serena and then daylight. There was the incredible comeback of Rafa Nadal as he finished the year as world No.1 and there was the amazing consistency of Novak Djokovic who closed 2013 as the ITF World Singles Champion.
And then there was the dip in the rankings for Roger Federer which in one sense should not be seen as a total shock. He had put so much into 2012 to get back the Wimbledon title and regain the No.1 ranking as well as playing the Olympics winning a silver medal, that things probably came crashing in during 2013. But, the surprise was that he fell as low as seven in the rankings (he ended at six); most observers likely felt he would maintain a spot in the top five.
I want to start this look ahead to 2014 with Federer in fact. At the end of 2012 it was my belief that he would not win one of the four majors in 2013 but I also said that I believed he would win his 18th career Slam (he's on 17) in 2014. I wrote it here on the pages of We Are Tennis and am sticking to that. In 2005 I said he would claim 18 majors for his career and boy I would obviously love to see that happen. If it does, should I change my name to Nostradamus … what do you think?
Federer has a new association with Stefan Edberg who will work with him for ten weeks of the year.
Djokovic comes into 2014 feeling pretty good with the way he is playing and he certainly closed out 2013 as the world's best player, going unbeaten from after the US Open final. To take that sort of confidence into a new season is going to be invaluable; to get things off to a great start and put the pressure on others.
Djokovic wants to make a statement with his new "head" coach Boris Becker and there is no doubt he will be tough to beat. Another two Slams are on the cards for him. He is finally going to achieve the career Slam by winning the French Open and if Becker is still by his side (sorry, but it just seems like an unusual partnership) it would be ironic because that was the only Slam that Becker never reached the final of.
Nadal will remain No.1through most of the first quarter. He will be gaining ranking points at the Australian Open because he did not play it in 2013 so everything will be a bonus but it could start getting tough after that. 2014 will be the year he loses for only the second time in his career at the French Open but I believe he will start the year with the Aussie Open crown.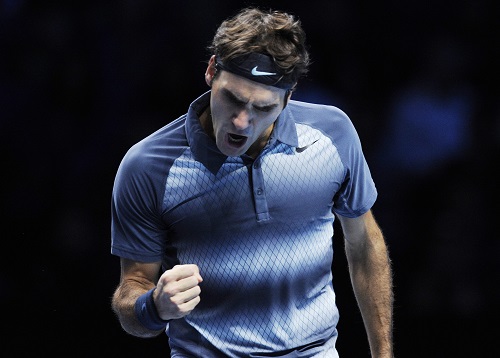 The $64 question is how will Andy Murray start things off early in the New Year? He has not played since the US Open because of back surgery and while he is 100% fit, it could be a slow beginning. The chance of reaching No.1 is probably not going to happen but then again it doesn't seem to be a priority for him. His coach Ivan Lendl always said forget about No1, if you put in the results, that ranking will take care of itself.
2014 is likely to see the beginning of the slip for David Ferrer. He has split with his coach of 15 years and he will have the pressure of defending finalist points at the French Open. Juan Martin Del Potro will be the player to fill Ferrer's place – the gangly Argentine made an incredible return in 2013 and that will continue as long as he remains fit.
We need to start seeing some of the young ones make major inroads on the tour – the likes of Milos Raonic, Kei Nishikori and Grigor Dimitrov have shown some signs of that but they need to be doing way more. One of these guys should feature in the business end of a couple of Slams.
The question for 2014 on the women's side of the game is who will stop Serena? Going through the entire year unbeaten is next to impossible but if there is anyone who can do it, she can. I'm suggesting that she will. Talk about a bold prediction!
Victoria Azarenka will be there to challenge and will maintain a place among the top three but I feel that Li Na will make a burst and enjoy some time as the No.2 ranked woman in the world.
The $64 question on the women's side (as it was on the men's with Murray) is Maria Sharapova. Like Murray she has been off the tour for months, in fact longer than Murray; she did not even get to play the US Open because of her troublesome shoulder. Hopefully she can stay healthy because Sharapova is obviously a crucial part of women's tennis and while she should stay in the top ten, winning a major could be beyond her in 2014.
Aga Radwanska was another who struggled with injuries for periods but I cannot see her getting the consistency she should have at the Slams.
Two players that will continue to make good, I feel, will be Jelena Jankovic and Caroline Wozniacki but the player to watch in 2014 is Simona Halep. 2013 was a very good year for her; she was second only to Serena for the most titles won and that is going to give her the boost to produce the goods in the New Year.
So there you have it in a nutshell, what I feel my crystal ball is telling me. Let's have your opinions.