Novak Djokovic and Rafael Nadal will reignite their rivalry in the final of the US Open. Fasten your seatbelts because it promises to be quite a ride.
No other rivalry in the Open-era of men's tennis has seen two players face each other more times. When Novak Djokovic and Rafael Nadal play for the US Open title it will be their 37th meeting, a series that began at Roland Garros in 2006 in the quarterfinals. Nadal won on that occasion and he also won their most recent match in the final of the ATP Masters 1000 Canada; this year in Montreal.
Nadal goes into the US Open final holding a 21-15 record. He is chasing a second US Open and 13th career major while Djokovic is also after his second in New York and his seventh career major. Both have won Slams this year – Djokovic at the Australian and Nadal at the French.
When you break down their Grand Slam record, Nadal has won seven of the ten they've played – 5-0 Nadal on clay, 2-1 Djokovic on hard and 1-1 on grass. They have played in five Slam finals and it is 3-2 to Djokovic.

"(Playing Nadal) is always the biggest challenge that you can have in our sport now," said Djokovic. "He's the ultimate competitor out there. He's fighting for every ball and he's playing probably the best tennis that he ever played on hard courts. He hasn't lost a match on hard court this year, and we all knew that over the course of last six, seven, eight years, hard court hasn't been his favourite surface.
"He has got injuries, many injuries on this surface, but now he looks fit. He had seven months off. He lost three matches this year. With no doubt he's the best player in the moment this year, no question about it.
"So the way he's been playing he's very confident, but, you know, I know how to play him. Hard court is the surface that, as I said, is my most successful surface. I have played him already here twice in the finals. I know what I need to do. Now it's of course easier to sit here and say, I know what I need to do, but I've got to do it on the court. I'll be ready to give everything I have for the trophy."
Of the 13 tournaments Nadal has played this year he has won nine, is now in his 12th final and lost first round at Wimbledon. He says winning a second major this year is not the issue for him, but what makes him happy is being in the final of the US Open and then wining the US Open, that's what it is all about.
"What really makes me happy is be competitive in every tournament that I am playing, and that's why I am very happy today, because in this season I was able to play all finals and one first round," said Nadal . "That means I was very competitive in every tournament, and makes me more happy have the chance to win every time that win one Grand Slam and then lose in early rounds the rest of the tournaments.
"I gonna try my best to win on Monday. That match means the same if I already had one or doesn't matter. At the end, for me the only important thing is the US Open. That's the most important thing."
Asked how much he enjoyed playing Djokovic and Nadal was very amusing: "I prefer to play against another one, but is what it is. At the end, well, we have to be honest, no? We don't have to be stupid. Talking about a final, I want to play against a player that I have more chances to win. But I play against him. I played against him a lot of times. Always we played very exciting matches."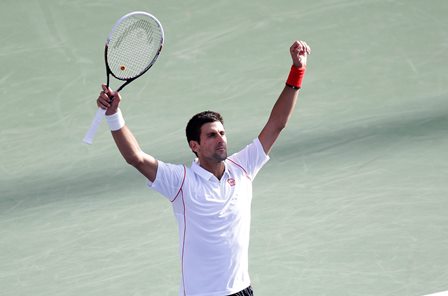 For Novak, a winner of three events so far in 2013, this is the fourth straight year he is playing the US Open final and the Arthur Ashe Stadium is a place he feels comfortable in, as big as it is.
"I love playing on Arthur Ashe. Next to Australian Open that I won four times, I think this is definitely my most successful court that I played on," he said. "Playing four finals now in a row and five in total, I mean, it's great. I mean, seven, eight years that I have been coming back here I have played at least semifinals in every US Open. Fantastic.

"I mean, I have this great kind of feeling and atmosphere that goes around US Open. I love the energy here, but I also have a big team of people and I stay at a friend's house. It's kind of this family sensation. It's important, you know. It gives me a great deal of motivation, but also comfort, you know, to recover and to always be fresh on the court."
The other thing that is on the line in the world No.1 ranking and while it will not change coming out of the Open, the consensus is that Nadal is the favourite to be the year-end No.1; even Djokovic concedes that as he tries to hold that spot for the third consecutive year.
"Rafa is I think in a better position right now for that ranking and for this position, but I'm still keeping that position going," said Djokovic. "I'm fighting for it. I need to play well and I need to win tournaments in order to finish No. 1. I'm aware of that. But, you know, this is not the first time that I have something like this in front of me."