Roger Federer's frustrating and disappointing season continues and the concerns are starting to show with him.
Roger Federer seems a bit confused. He is not sure where he is and for all of us who have been following him at very closer range over the last decade are certainly perplexed to see him in this situation. Federer has always been measured with how he has responded to frustrations. Not so at the moment.
After his earlier round at the US Open he was showing signs of the Roger Federer we have been used to. He said he felt good about things and believed he had turned the corner. However, after his 7-6, 6-3, 6-4 loss to Tommy Robredo in the fourth round, by the way that was the first time he had lost in straight sets at the US Open, he made it clear that he is lacking confidence and consistency.
The loss struck him hard. He had never lost to Robredo in their ten previous matches and this is the second time in eleven years, but the second time in three years, that he will end the year without one of the four majors. What is more incredible it is the second consecutive Grand Slam that Federer has lost before the quarter-finals.
"It sucks," he told the Swiss media in French after his English post-match media conference. That is pretty "open" from him. He will say when he is disappointed etc, but he has never been as blunt before. It almost sounds like a touch of panic in that no matter what he is trying, it is not happening.
It was disappointing for tennis followers because yet again a forecasted match between Federer and Rafa Nadal at the US Open failed to happen.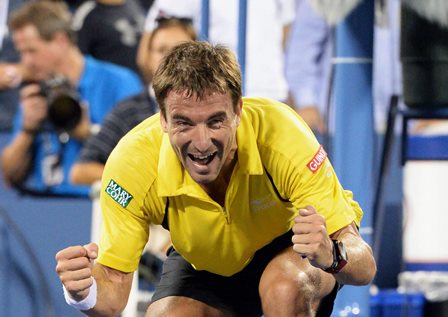 Against Robredo his forehand was all over the place. At one point I had Tweeted a question wanting to know if Amazon or Ebay had forehands for sale because Federer was in the market for one. He lost 14 out of 16 break points and that was unheard of, even just last year.
"Confidence does all these things. It takes care of all the things you don't usually think about," he said. "I just think it's been a difficult last three months. Maybe my consistency is just not quite there yet. Maybe on a daily basis, set by set or point by point basis, maybe that's something that has been difficult for me.
"I kind of feel like I beat myself; without taking any credit away from Tommy. Clearly he was making sure he was making many balls. It was up to me to make the difference and I couldn't. I kind of self destructed, which is very disappointing, especially on a quicker court. I just couldn't do it. It was a frustrating performance today."
Doesn't sound like Federer, does it? But it is and he has made it clear now that he is concerned with how things are.
In a very polite manner Robredo suggested that the Federer aura is not quite there to the extent it used to be. It would probably have won him a few free points in the past but now there is not that air of near invincibility.
"When he was No. 1, to the Roger right now, he's not maybe with the same confidence, no?" suggested Robredo. "Obviously he's the same player and he plays unbelievable, but I knew that if right now I had a little bit more chances, maybe he will had a little bit of doubt, no?

"I wasn't thinking that I was going to win. I just was going into the court trying to give my best and we'll see, no? I think (it) was a good day for me; to beat Roger, it's something amazing. (The support for him) when we were getting into the court … when I was getting inside, it was like 2% of noise. When he was getting inside, it seems like a concert."
Federer is not going to give up but this has all been a reality check for him.
His ranking had dropped to seven coming into the Open and even though he lost one round earlier than last year, he can say thanks to Juan Martin Del Potro for losing even earlier because the Argentine has lost a bigger bunch of ranking points which is expected to see Federer move up one to six after the Open.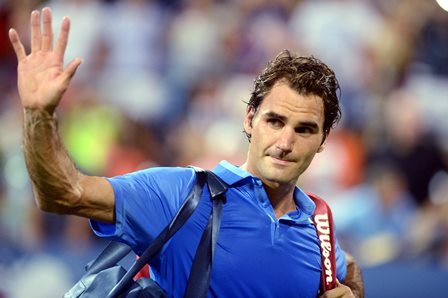 The Swiss tennis media joked: "Who said Roger is sliding? He is on the way up."
"I've definitely got to go back to work and come back stronger, get rid of this loss now as quick as I can, forget about it, because that's not how I want to play from here on. I want to play better. I know I can," he said.
I will say it here, I feel that Federer will be back to his winning ways in 2014 and believe he will win a major gain next year.