It is all to do with marketing and branding and Maria Sharapova has taken it another step.
You must have heard by now that Maria Sharapova is going all out with blatant marketing of her Sugapova sweets and candies with the unique exercise to have her name changed for the US Open to Maria Sugapova. Her name would revert back to Sharapova after the Open.
I had to laugh, while it is a clever thought, you got to wonder and think, what's next in the name of branding.
Have any of you guys actually tried Sugapova? I bought two packets to try and I have to say I found nothing different in the sweets. They tasted like any other sweet that is similar, and no I didn't pay full price, they had been marked down to $2 from $6 at a shop in Miami.
It is essentially a very good marketing strategy, nothing else. Good luck to Maria, she has got all of us in tennis and even many outside tennis, talking about it.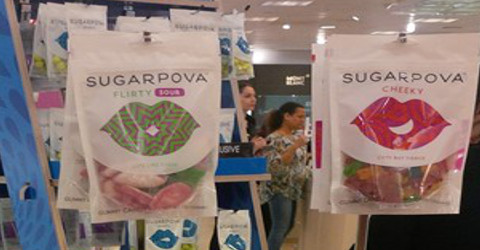 So I thought what about other player names that could be good marketing plans. Here are some I and a mate of mine Jason Ford thought out:
What if one particular giant transport company sponsored Roger Federer? Well, he would be ROGER FEDEX
What if a gin company like Gordons or Bombay or Tanqueray sponsored Bernard Tomic? As a drink we could have BERNARD GIN AND TOMIC
We all love chocolates so if the company Ferrero sponsored Rafael Nadal, I think a lovely treat would be RAFFAELLO NADAL
There is a fast food chain in some parts of the world that sells spicey chicken, it's called Oporto. They could sponsor Juan Martin and we'd have JUAN MARTIN OPORTO
If the Principality of Monaco was looking for a spokesperson they should not go past JUAN MONACO
French player Alize Cornet needs to be sponsored by a particular ice cream company, we could then have the ALIZE CORNETTO
Let us know if you have any ideas with other players.