The first half of the tennis season is done and dusted so how will the second half unfold?
It is incredible how quickly the tennis year has been flying. We are in the second half of the season already with the start of the American hard court circuit or what the United States Tennis Association likes to call the US Open Series. It's the second last group of events before the tour closes down with Asia and Europe and essentially indoor tournaments.
The US Open is just a month away which brings to an end the majors for 2013. So far every Grand Slam has been won by a different person Australian Open was Vika Azarenka and Novak Djokovic, French Open was Serena Williams and Rafa Nadal and Wimbledon was Marion Bartoli and Andy Murray.
The last time four different women won the titles was in 2011 (Kim Clijsters, Li Na, Petra Kvitova and Sam Stosur respectively) and the last time four different men won was a decade ago; in 2003 it was Andre Agassi, Juan Carlos Ferrero, Roger Federer and Andy Roddick and from that group only one remains active.
The last time that we had four different women and four different men winning the four majors in the same year was back in 1998. The Australian Open went to Martina Hingis and Yevgeny Kafelnikov, the French Open was won by Stefanie Graf and Andre Agassi (the start of their romance), Wimbledon was taken out by Jana Novotna and Pete Sampras and the US Open was claimed by Lindsay Davenport and Patrick Rafter.
So will we see a 15 year drought broken this year? My gut feeling at the moment is no, there will not be a repeat with every Slam singles title being won by someone different.
There is no doubt that Novak Djokovic and Andy Murray at the two best players in the world right now and for both hard courts are their favourites. It will be one of these two winning the Open and I am going to say here that I feel it will be Murray.
Murray will probably have the bulk of attention on him going into the Open as the defending champion but also because he is coming off the biggest title of his career, Wimbledon. He handles things so much better since connecting with Ivan Lendl 18 months ago and he will go into the Open no doubt nervous, but feeling positive about his chances.
Djokovic will obviously be looking to make up for the Wimbledon disappointment but really can any tournament make up for a loss in a Wimbledon final? For that matter no event can make up for any Grand Slam loss irrespective what a player might say.
I'm going to go out on a limb here and now and say that I believe Murray will end the year as world No.1. If that happens and the Christening of the Royal baby has not happened, then William and Katherine should change the baby's name to Andrew because Murray would certainly be the most celebrated person in the UK.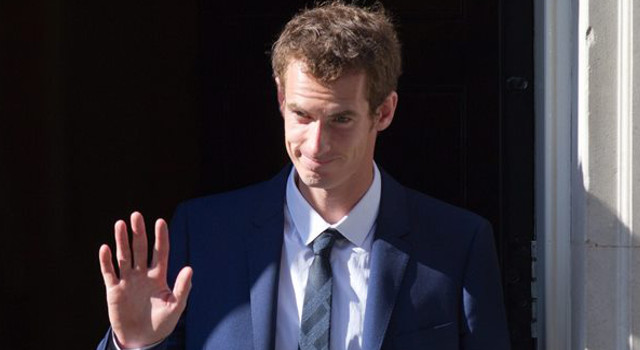 I'm just not convinced that Roger Federer or Rafa Nadal will be holding the US Open trophy, and especially with the Swiss playing like he is, which is a shocker. He is losing to players he should never lose to – Stakhovsky, Delbonis and the latest Brands.
I thought Federer may have picked up at least one title, maybe Cincinnati again, en route to the Open but I'm not so sure now. As for Nadal, well how are those knees going to stand up to the rigour? He has played one hard court event in the last 15 months and that was in March this year when he won the BNP Paribas Open.
Who else may throw out a challenge? Well Tomas Berdych has a bit to defend, Jo Wilfried Tsonga is going to be around and Juan Martin Del Potro has proven he is back with vengeance. And no doubt there will be the odd upset here and there along the way but at the US Open I am not expecting to see the carnage we saw at Wimbledon.
On the women's side, even though she suffered a disappointing loss at the All England Club, Serena Williams heads into the US Open as the undisputed favourite and yes I believe she will win it. Serena is incredible following a loss and you wouldn't want to be in her path with the draw as she tries to draw level with Federer on 17 major titles. I say it here … Serena will pass Federer next year for the most majors.
If Serena is not the year-end No.1 then I will fly from Los Angeles after the BNP Paribas Open to the following tournament in Miami next March in economy, and those who know me will tell you that would be one of my worst nightmares.
Maria Sharapova hits the hard court season with a new coach, Jimmy Connors whose previous coaching run was for a short period with Roddick. How these two mesh will be very interesting. It seems like an odd arrangement. It was also strange that she parted company with Thomas Hogstedt who took her to the French Open title last year and the Australian and French finals this year.
Certainly Maria is going to be the big threat to Serena because right now I am not convinced that Vika Azarenka is going to pull things together. Physically things have not gone her way and that could play on her mind.
What of Marion Bartoli over the next few weeks and how she handles the additional attention after Wimbledon? The fact there are a few weeks between the two majors will be a help to her and I feel she will feature in the second week of the Open and should pick up some points in the lead-up.
Aga Radwanska may make some inroads and it will be fascinating to see how Sloane Stephens handles the attention in the USA after her efforts at the other majors.
However, the only other player I feel will be a serious challenger is Li Na. She has quite a bit to defend during the hard court season having been a finalist in Canada and a winner in Cincinnati last year but she has what it takes and it's one year now that she's been working with Carlos Rodriguez who has really turned things around for her.
The next few weeks promise to unfold like the chapters of a thriller.